Sex advice, sex tips and relationship advice
Published Tuesday, July 07, 2015
Download Audio: Partnered Yoga - Erotic Connection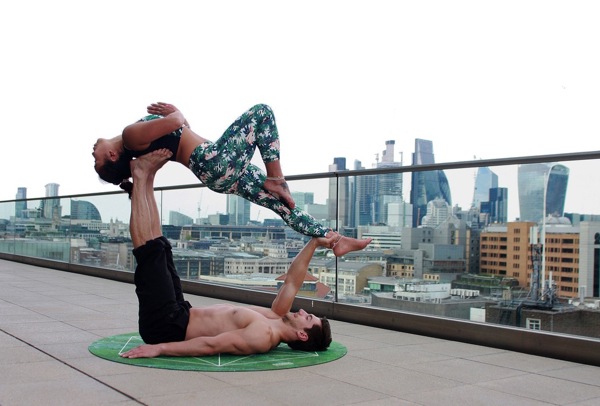 I had the most unexpectedly delightful experience earlier this week, I attended a two-day Partnered Yoga training course. I'd only heard about it a couple of days before and thought "Yes, this would be so relevant to my work!" So after managing to sort out the kids (still being school holidays) I found myself on Monday morning literally entwined with the course participants on the yoga floor.

I've done yoga ever since I was a kid, and I love it. It's great for getting in tune with your body, for keeping it lithe and flexible and for stilling the mind and achieving deep relaxation. Brilliant stuff. However, because it is a solitary activity I've always found it a little unsatisfying because there is no interaction.

I also trained and taught martial arts for years, particularly Aikido. That I found deeply satisfying because there is so much interaction with others. It is absolutely essential that you open yourself to feeling and receiving your partner's energy so that you can use and move with it. It was brilliant training for applying to sexual situations, and forms the basis of my energetic abilities in all spheres of life and the work I do with people. (Although the fact that it entails hours of being slammed into a mat means it's not everyone's cup of tea...!)

So what a pleasant change to do yoga in such an interactive way! And to meet someone who has such a similar approach to life, sensuality and sexuality. A keen proponent of Tantra, the course leader brilliantly combined the still, spiritual aspects of yoga with playful, fun and interactive elements.

As he puts it, partnered yoga can be done in a regular class in a completely platonic way, so that class members can experience the poses differently and also get to know each other better and add more liveliness and fun to the class.

Partnered yoga between lovers though, can be deeply erotic. This is what interests me.

I'm always looking for ways to help couples connect. If you've done my Luscious Lovers workshops you'll know that it's all about connection and that by deepening connection you heighten eroticism. Which is why dance and massage are so good. Partnered yoga expands the options. It's very much about connection, about knowing your partner, about harmonising - not to mention potentially becoming more sexually flexible and creative!


Testimonials