Sex advice, sex tips and relationship advice
Published Sunday, July 23, 2017
Download Audio: even Benefits of Attending A LoveLife Couples Retreat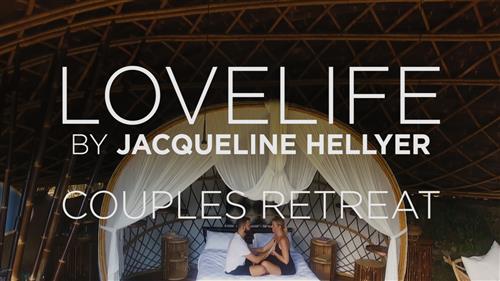 Taking a break together is always a good thing to do, helping you relax and rejuvenate and hopefully have some quality sexy time away from the stresses of everyday life.
So why would you add a couples retreat to your time away? What are the benefits to you of going to one of my LoveLife Couples Retreats?
Well, where do I start?! Feeling the love and connection in the group and seeing the couples blossom is an experience that's hard to put into words.
But I'll try...

1. Learn the Tantric approach to sex, its physiological basis, and why it's so important for modern lovers.
I love the way science is reaffirming ancient wisdom in so many ways, particularly when it comes to sex. The Tantric approach is essentially good sex - connected, erotic, intimate. It's about slowing down so that you're in the chill zone, as good sex is not possible if you're stressed; it's about 'syncing in to sink in' as you can't have good sex if you're not connected; and it's about being mindful, as you can't have good sex if you're not present to the experience.

In the retreats I explain the theory and present the practices in a way that is appropriate for contemporary couples. As so many participants say, it's not 'woo hoo' or 'fluffy' and makes good practical sense that you can incorporate into 'real' life.

2. Learn how to keep your 'Couple Bubble' strong.
There are three entities in your relationship, each of you as individuals and you as a couple. When your 'couple bubble' is strong, your connection extends into your individuality and makes life connected and resilient. A strong Couple Bubble means really understanding your partner, and yourself, so that you connect and communicate in a way that works for your partner as much as yourself. Essentially you become experts on each other.
In the LoveLife Couples Retreat you'll learn all sorts of fascinating things about yourselves - your attachment styles, your love languages, what stage of relationship growth you're in (symbiosis/fusion - differentiation - couple bubble); and you'll learn how to use this understanding to connect and communicate.

3. Learn how to talk about sex, to develop an erotic language together.
One of the key elements of the retreats is that you'll learn how to actually talk about sex. This means learning how to have open, supportive communication general, and particularly in regard to sex. People often tell me I give them a language to talk about sex, and in the immersive experience of a retreat you'll certainly discover how you can talk about sex in an open, creative, inspiring, erotic and non-sleazy way! It's kind of like making sex a mutual hobby.

4. Learn how to merge your sex and love energy so that you keep yourselves 'simmering'.
I believe that one of the most powerful elements of the approach I teach is that you merge the love and sex energies - which is one of the reasons that it is good for long-term lovers as it's not just about lust. Once you get this, you can constantly share this energy between you. You'll find yourselves sending each other little quanta of this delicious energy all through the day, keeping your couple bubble strong and keeping the two of you 'simmering' so it's easier to move into love-making.

5. Learn how to explore the ecstasy of the 'valleys' as well as the intensity of the 'peaks' of sex.
While vigorous sex, what we can call the 'peaks' of sex, has its appeal, it's in the valleys of sex that you find real ecstasy. In the retreats you have time to really explore how to relax your genitals and get very present in them so that you can have extraordinarily beautiful sexual experiences. You'll discover the many and varied ways of being orgasmic and how to lengthen and sustain erotic and sexual connection (as well as how to have a Tantric quickie!)

6. Learn ways to pleasure each other for heightened erotic arousal.
We explore what I call the yin and yang of sex - exploring the concepts of giving and receiving, leading and following, intensity and subtlety. You'll learn about the Seven Elements of Sex, elements of your sexual being. By tapping into these elements you can become integrated within your individual and partnered sexuality and explore your eroticism. And you'll learn the Seven Flavours of Sex, the different styles of eroticism, different sexual tastes or flavours.

7. Develop an approach to sex that is endlessly creative and satisfying!

That's what it's really about! When you can keep your connection strong, communicate openly and explore together, you'll find that your love-life thrives. The retreat is a start, or part of an on-going journey of life and love together.

Couples of all ages and stages of life and relationship come along to the retreats. Some are healing their relationship, some are starting a relationship, others have a great relationship and that's in part because they do cool things together like this retreat! What they definitely have in common is a love for each other and a commitment to co-creating a meaningful sex life that strengthens and enhances their love and their life.

I'm not aware of any other couples retreats in the world that combine the relational, the sexual and the spiritual in such a grounded, practical and inspiring way.

So, will I see you and your beloved at one soon…?

Testimonials